A conversation is a dialog between two or more people (or entities) in which information and ideas are exchanged.
The Engage Conversation Engine ("EngageCE") is the ultimate tool for managing multiple conversations with multiple prospects/customers via multiple communication methods.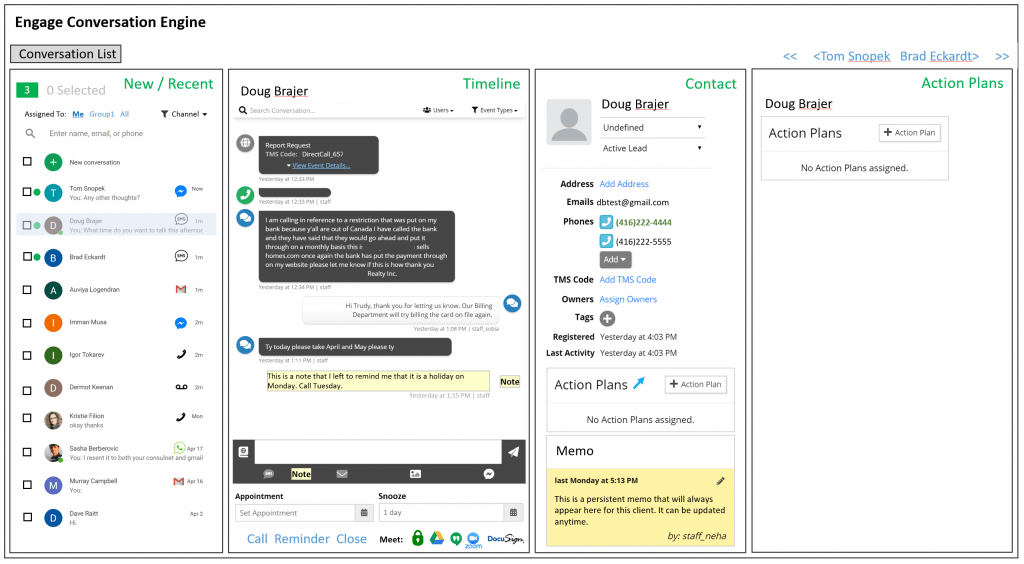 The main window shows the two main conversation views. The New/Recent window shows any active conversations or notifications that have to be processed at the top. After this is a history of conversations for the current user. The Conversation List is a list of all current conversations that require attention.
The Conversation List is the main window for processing conversations.
When a record in the Conversation List is selected the Timeline for that person comes up. At the bottom of the Timeline are the tools required to process or respond to this particular conversation.
Basic contact information for a particular conversation would also show in the Contact window. Basic contact info would be stored within Engage or could be synched with a Connected CRM (SuccessCRM, Google Contacts, Zoho, Salesforce, etc.).
One key element of the Conversation List would be the ability to do quick filtering and get a count or status of the number of conversations that fit a particular category. This might be done with a quick filter bar: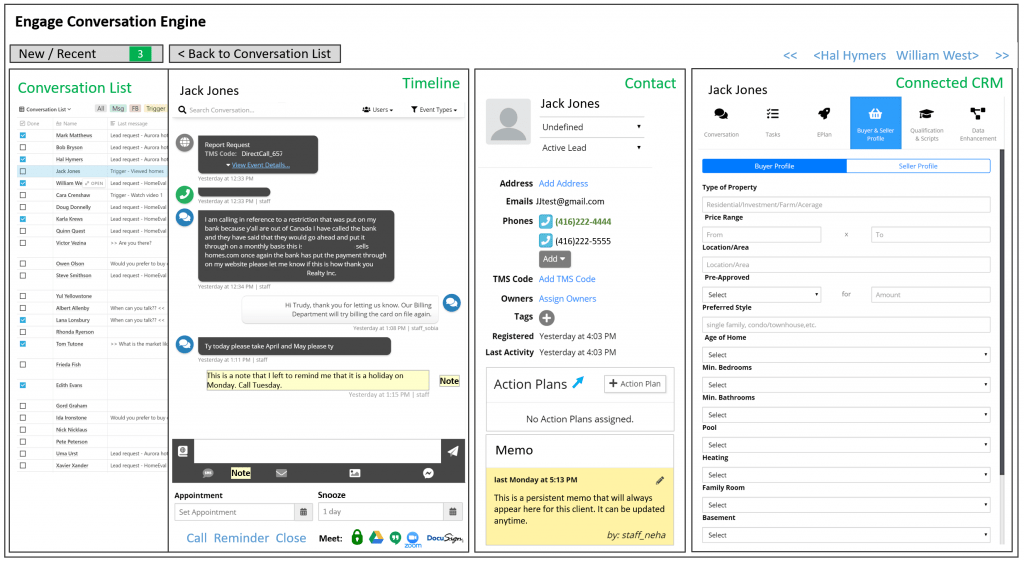 Advanced or specific functionality could be connected to the Connected CRM window or open an external CRM. If this was the SuccessCRM for real estate, this is where we would contain real estate specific functionality such as listings or scripts.
When a record in the New/Recent is selected the Timeline for that person comes up. At the bottom of the Timeline are the tools required to process or respond to this particular conversation.
A conversation has a beginning. Conversations can be initiated in lots of ways:

A new lead request from a web form
A new lead request from an ad (ie. Facebook or Google)
An incoming phone call (answered, voicemail, message)
An incoming text message
An incoming email message
An incoming messenger channel (FB Messenger, WhatsApp, etc.)
Incoming web chat
A scheduled follow-up
A referral
A conversation can be spawned from another conversation
A trigger or trip-wire (visitor returns to a web page, watches a video, clicks a link, etc.). Examples could include looking at listings, going to a shopping cart, looking at a pricing page, etc.
Part of an outgoing follow-up campaign (ie. "work your list"). This would likely start with some sort of filter from a database (ie. List of past clients, List of clients we haven't talked with in some period, List of clients coming from a data pull, etc.)

It is quite possible that the same conversation can be initiated multiple times from multiple sources or that the same client could be involved in multiple conversations.

An appointment is not considered a conversation in our context.

A conversation can include multiple people or entities. We may or may not already have information about the people communicating with us.

Past conversation history
Prospect or client information (often stored in a CRM or database which could be external to our system)
Third Parties for related conversations (network benefit

A conversation has context and history that may need to be known to respond effectively.

A conversation may use multiple communication channels, though one is generally preferred.

Conversation types may better suit certain channels: text (immediate, short), email (archival, longer), phone call (inherently interactive traditional) video call(inherently inherently interactive trust), …

The conversation entity Lead (Not correct nomenclature) normally has multiple (but not all) communication channels. Channels are not silos as they still connect to single party. The Leads communication preference is often contextual: social, business, public, private, how well known the other party is,…. The preference may also be related to whatever tools they use more frequently.

A conversation can be intended for a specific staff person, any staff person, or a specific group of staff. It could also be assigned to a specific staff person or group.

A conversation has a type.

A conversation has a status:

Response required by us. We may need to be reminded.
Waiting for response from the other party. We may need to remind them.
Snoozed. The most common form of this would be when we are trying to call someone. We try today, don't get an answer, and decide to try again tomorrow. We may need to be reminded.
Automated sequence of responses in progress.

The urgency of responding to a conversation will vary. Conversations have a level of urgency. Each side of the conversation may respond with different levels of urgency. Different channels also infer different level of expectation of response time.

Often conversations have goals or desired outcomes.

A conversation can involve multiple requests.

Conversations may or may not require personal intervention or they may be entirely automated. This may depend on the source, type, person, etc.

A conversation has an end.

This could be a hand off back to a CRM
What are the things we'd like to do with conversations?
Initiate a conversation
Respond to a conversation using one particular channel
Respond to a conversation with a "nudge stack" (multiple channels)
Respond to a conversation using pre-written responses
Auto-respond
Update / Check a client's database record
Snooze a conversation to address at a later date
Rebound a conversation if it goes unresponded
Assign a conversation to a team member or group
Update a conversation status, priority, type, etc.
End a conversation (what does this mean?)
Process a selected list of conversations:

Call-Assist Dialer
Call-Assist Dialer with pre and/or post-call nudges
Apply a response to multiple conversations
Bulk assignment or update
Snooze or rebound
End
Query your database to create a list of new conversations
Conversation reporting
Gallery or Tile views of conversations
eReply plugin
Caller Script plugin